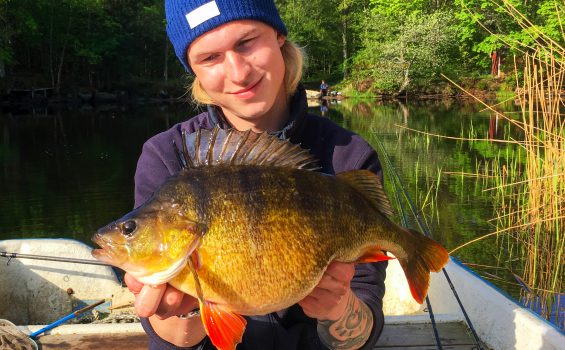 Perch fishing madness! About a week ago Fishing in Sweden guide Erik Petersson and his friend Jerry had the best perch fishing of their life! In only four casts Fishing in Sweden perch expert Erik landed 4 specimens of over 1.3kg! 1.3, 1.48, 1.66 and a crazy 2.21 kg monster perch which is also a new personal best for Erik! Here the full story:
Erik and his good friend Jerry decided to go for a morning session before work, hoping for some pre-spawn perch. The fishing was super slow and it was a quite morning. Suddenly, another guy on the bank landed a super nice perch of just under 2 kg. They were on it and soon started to see some activity as well. Erik got a bite and it was a big perch of just under 1,5 kg. In the next cast Erik hooked a really big fish – in fact the fattest perch he has ever seen! 2,21 kg, 48 cm long and stunning 41 cm in girth. Erik was living the dream!

It was soon time to head to work but Erik wanted to do one more cast….. Immediately he got the next bite: 45 cm and 1.66 kg! Stunned by what was happening and although feeling the time pressure Erik couldn't resist to do another cast. Baaaam and yet another massive perch, this one just under 1,5 kg!

Perch fishing madness continued!
Now the two rushed to work before deciding to give it another try in the evening. The evening perch fishing was super slow and it took 3 hours before Erik's friend Jerry finally got the bite of his dreams. After a hard fight they got a glance at yet another monster perch very similar to what Erik caught in the morning: Erik 2,21 kg and Jerry 2,21 kg! It didn't take long before they realized that this was something they will probably never experience again!
Erik and Jerry were bottombait fishing with small livebaits. They used sinkers of 15-25 gram and a paternoster with baitfish slowly fished home against the boat – a really effective method when fishing for really big perch.
Are you also looking to catch some big perch? Sign up for one of Erik Petersson guided perch Fishing Tours in Sweden! You will find more details about our guided fishing tours here.