Perch Fishing in Sweden can be done all year round. If your goal is catching many perch, fall (beginning of September to end of November) is an excellent choice. If you are looking to catch a really big perch, then spring (beginning of February until end May) just before spawning is the time to go. Throughout summer Perch Fishing in Sweden is not bad either and you can usually catch many, but the average size is much smaller than in fall. [fblike url="www.fishing-in-sweden.com" style="standard" showfaces="false" width="450″ verb="like" font="arial" ]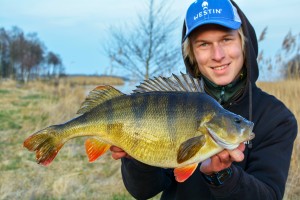 Perch fishing methods vary between dropshot, jigging with softbaits, spinning with small lures and crankbaits. Sometimes we also do live bait fishing for perch with a float or bottom bait rig. During the guided perch fishing tours that we can arrange, the guide usually takes you out on the Baltic sea, although there is also a fair amount of river fishing to be done in spring and fall. During spring the perch head up into the rivers to spawn and in the fall they tend to follow the batfish into the rivers. With only 1-3 meters of depth the rivers are rather shallow while in the ocean it can go down to up to 7 meters.
[button link="http://www.fishing-in-sweden.com/contact-fishing-in-sweden/" color="red" ]Click here to book your Guided Fishing Tour now! [/button]
Perch Fishing in Sweden Gear Recommendations:
1.9kg Monster Perch caught by Henrik Olsson in Sweden!

Posted by Fishing in Sweden on Sunday, March 25, 2018
Lures: Small softbaits between 8-15 cm, like the Westin Ring Teez CT or the Westin Shad Teez 9 and 12cm if jigging with jig heads between 5-15 gram. For dropshot fishing the Westin Mini Teez and the Westin Mega Teez are perfect. We also use small crankbaits like Westin Platypus SR.
Leader: Between the lure and the main line we suggest to use a 1 m long 0,30 mm fluorocarbon leader to survive eventual pike attacks.
Line: 0,10-0,15 braided line, preferably in a highly visible color so you see when the jig hits the bottom or a perch strikes. For example Sufix 832 0,13.
Rod: A 7 to 8″ foot rod from 10 to 30 and sometimes even up to 40 gram. The Westin W3 Finesse Jig 8'3″, Westin W6 dropshot rod or the Westin W8 Powershad are perfect examples. It's nice to have some extra power when you catch a big perch or the occasional pike.
Reel: A nice, small and light spinning or baitcaster reel all depending on the rod as long as it can cast light lures while still having a strong drag.
Guided Perch Fishing Tours in Sweden
[button link="http://www.fishing-in-sweden.com/contact-fishing-in-sweden/" color="red" ]Book your Guided Fishing Tour  now! [/button]